Sodamco Proboard Protection Board 3.2 mm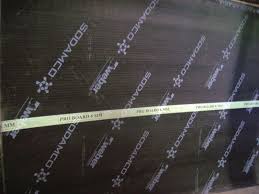 Sodamco Proboard Protection Board 3.2 mm
---
---


Estimated Shipment Date 2-3 Days
Cash on Delivery
Pay Online
Prices excluding VAT.
Prices excluding delivery costs
Delivered by SAB Gate
Proboard is manufactured as a semi-flexible, semi-rigid board made of a tough bituminous mix with fillers and modifiers, held under pressure between two laminating fibrous and non-woven carriers, providing the board with a superior puncture resistance and low deflection coefficient.
SCOPE OF USE
• Positive barrier to water and dampness with very low water absorption.
• Non invasive. Compatible with almost every waterproofing membrane and coating like: Bituminous, EPDM, TPO, PVC, polyurethane, butyl rubber, epoxy, acrylic, Chlorinated rubber, coal tar and many others.
• Withstands site abuse and impact from backfilling operations as well as effective protection against construction traffic, concreting and other topping work.
• Maintains shape stability at high temperatures and retains flexibility at low temperatures. It is tough, root-proof and non-bio degradable. It is unaffected by permanent immersion in water.
• Resistant to salts, chlorides and other chemicals normally found in soils.
• Can be used as a recovery board in re-roofing as a fast, light weight alternative to screed and eliminating the need to remove the old roofing regardless of its type.
• It comes in a variety of thickness from 3 mm to 6 mm.
• Semi-flexible can be bent to normal contours without cracking while rigid enough to hold as a board on vertical surfaces.
• The top surface is covered with either fine sand (SAND) or a thin Polyethylene film (PBS). The bottom surface is covered with a thin easy torched Poly-Ethylene film.
• High puncture and impact resistance. Pass the chisel test.
SCOPE OF USE
Proboard is a tough semi-flexible, rot-proof, durable pre-molded bitumen based board suitable for a variety of applications in below or above ground waterproofing as well as roofing, parking, bridge decks, wet areas, planters, pools, fountains and civil works.