Bituminous Membrane NEOFLEX S4180 -G Antiroot 4mm 1x10 m2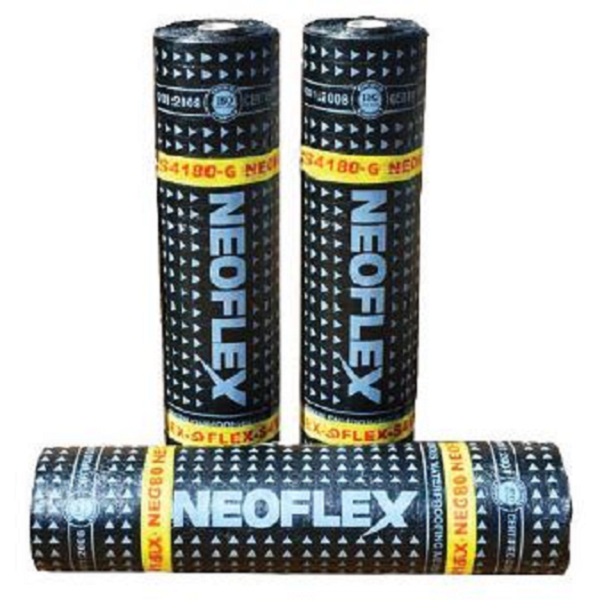 Bituminous Membrane NEOFLEX S4180 -G Antiroot 4mm 1x10 m2
---
Anti-Root Membranes for the Protection of Planters and Roof
Slabs Under Roof Garden from Damage by Plant Roots
---
Prices excluding VAT.
Prices excluding delivery costs
NEOFLEX S4180 -G Antiroot
Bituminous Waterproofing Membrane
A high performance elastomeric waterproofing membrane which combines the ability to withstand high ambient temperature with the usual characteristics of an SBS membrane of high flexibility at low temperature that makes it easy to apply at sub-zero temperature.
The SBS Bitumen Compound is carefully blended with high quality anti-root additives that makes it suitable for all types of waterproofing works especially roofs gardens, flower Boxes and underground backfilled structures.
Properties
- Cold flexibility
- Heat stability
- Thermal ageing resistance
- UV Resistance
- Resistance to foot traffic
Special Features
- Positive vapor barrier- Excellent resistance to atmospheric agents- High flexibility during application at sub-zero temperaturewith no physical strains- High malleability making it entirely suitable for difficult basement and foundation works.- High softening point allowing it to maintain shape stability at high temperatures.- Withstand thermal shocks- Accommodates structural movements- Resistant to chemical attacks
Reinforce Core and Coating Mixture
NEOFLEX ANTI ROOT MEMBRANE waterproofing membranes is reinforced with 180 g/m² non woven spunbond polyester reinforcement t hat gives the membrane dimensional stability and resistance to puncture. It is coated with a specially formulated mixture of SBS modified bitumen and antiroot additive which makes the membrane resistant to water, atmospheric agents, and plantations roots and malleable at low temperature while retaining a high softening point.