PENETRON® Crystalline Waterproofing Coating 22.7 KG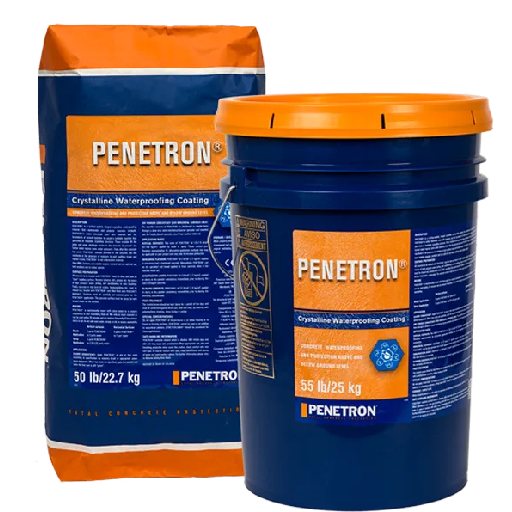 PENETRON® Crystalline Waterproofing Coating 22.7 KG
---
PENETRON® is a surface-applied, integral crystalline waterproofing material, which waterproofs and protects concrete in-depth
---
Prices excluding VAT.
Prices excluding delivery costs
Do you need concrete waterproofing and crack repair?
PENETRON® Crystalline Waterproofing
DESCRIPTION
 PENETRON® is a surface-applied, integral crystalline waterproofing material, which waterproofs and protects concrete in-depth. 
It consists of Portland cement, specially treated quartz sand and a compound of active chemicals. 
PENETRON® needs only to be mixed with water prior to application.
When PENETRON® is applied to a concrete surface, the active chemicals react with moisture and the by-products of cement
hydration to cause a catalytic reaction that generates an insoluble, crystalline structure. 
These crystals fill the pores and minor shrinkage cracks in the concrete to prevent any further water ingress (even under pressure). 
However, PENETRON® will still allow the passage of vapor through the structure (i.e. the concrete will be able to "breathe"). 
Even after the concrete has cured, PENETRON® remains dormant in the concrete and will reactivate in the presence of moisture
 to seal capillary tracts and hairline cracks.
 In addition to waterproofing the structure, PENETRON® protects concrete against seawater, wastewater, aggressive groundwater
 and many other aggressive chemical solutions. 
PENETRON® is approved for use in contact with potable water and is therefore suitable for use in:
 water storage tanks, reservoirs, water treatment plants, etc.
APPLICATIONS
Basement retaining walls Parking structures Concrete slabs (floor/roof/balcony, etc.) 
Tunnels and subway systems Construction joints Foundations Water retaining structures Underground vaults Swimming pools
 Sewage and water treatment plants Channels Reservoirs Bridges, dams and roads
Mixing:
PENETRON® is mechanically mixed with clean water to a creamy consistency or resembling thick oil. 
Mix only as much material as can be used within 20 minutes and stir mixture frequently. If the mixture starts to set, do not add
 more water; simply re-stir to restore workability.